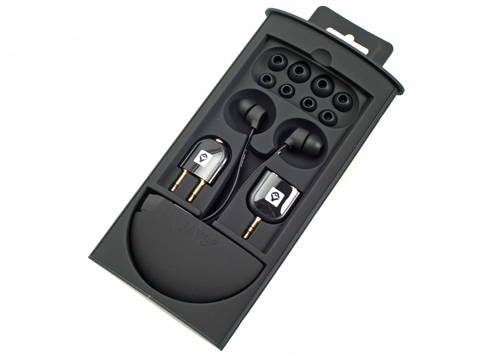 The a-Jays Two are a basic, no-frills in-ear set of headphones with a pleasing neutral sound quality that suits most music genres.
The three new headphones share the same design as well as flat cables, but they feature different finishes and markings. The drivers on the cheapest a-Jays One has the dullest appearance, whereas Two has a glossy black look and the Three is rubber-coated. Two and Three have the model name imprinted on the cable near the buds–a good thing if you want people to notice the headphones you're wearing.
Wires that trail from the bottom of the ear cups are designed in the traditional Y configuration. All three feature black cables but no slider to take up the cable slack. While the flat cables are flexible and reasonably long at 115cm, the flat design may not be everyone's cup of tea.
The flat design is good at reducing tangles, but tends to introduce microphonics as the cables are easily bent only on one axis. The 3.5mm plug is a straight affair and has a good amount of protection to prevent the cables from kinking. However, the cable protection on the earbuds is not as good as the one on the plug, as it may damage the cable because it kinks sharply at the cable exit.
The accessory bundle is different for the three models, too. Only five pairs of ear tips are included with One, while Two has an additional stereo splitter and an airplane adapter. The top-range Three adds a handy hard carrying case to the list.
All in, the a-Jays range puts up a good fight in an already saturated market. Just be aware that the cable protection isn't as good as a few other offerings on the market, but the unique flat cables and choice of three different models for different tastes make the a-Jays an attractive consideration.