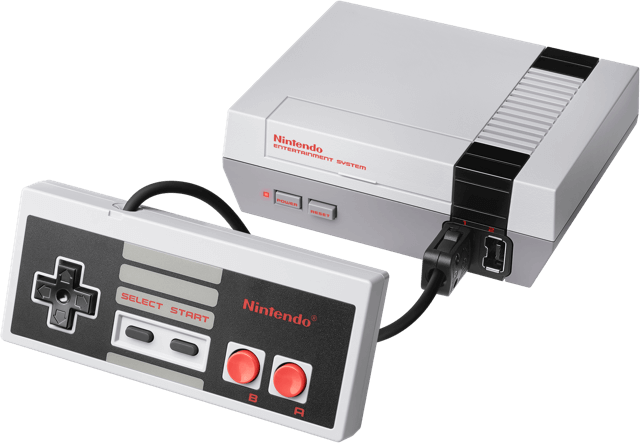 **As of writing this new stocks are expected in early December **
So Nintendo have released their compact versoin of the classic NES machine and called it the Nintendo NES Mini which was originally launched in 1986 and this time it comes complete with 30 titles pre-loaded (a list can be found below, with some classic favourites you may or may not remember). Although you can't add games or play the original cartridges with a list of the 30 best games on board I don't this will be an issue.
A great feature all you retro lovers out there will find awesome is the ability to play the games in 4:3 ratio display which gives a pixel replica of the original screen output. There is also a CTR mode which looks like an old TV scan lines and all. However to keep up with the times you can also play the games in 60Hz HD
Another fetaure the original never had was the ability to save or suspend a game and come back to it where you left off which is essential in my view for the longer adventure games.
Nintendo Mini NES Spec
HDMI Port
USB Port – to allow you to plug this into a power source
BUBBLE BOBBLE
Baloon Fight
Castlevania™
Castlevania II: Simon's Quest™
Donkey Kong
Donkey Kong Jr.
Dr. Mario
Excitebike
FINAL FANTASY®
Galaga™
GHOSTS'N GOBLINS™
GRADIUS™
Ice Climber
Kid Icarus
Kirby's Adventure
MEGA MAN™ 2
Metroid
NINJA GAIDEN®
PAC-MAN™
SUPER C™
Super Mario Bros. 2
Super Mario Bros. 3
Tecmo Bowl™
The Legend of Zelda