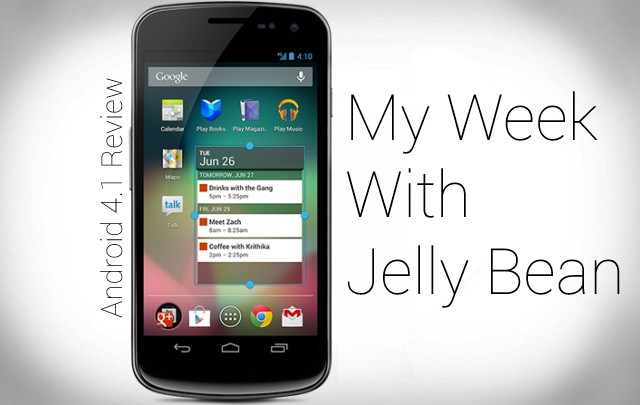 For the past week, I have been using an Alpha version of Android Jelly Bean on my HTC Desire S. This is article details my first impressions with the new operating system however some opinions may change as the ROM becomes more stable.
Last week  I woke up and checked on the CM10 for Desire S thread on XDA developers, as I had done each day since the thread opened. On this particular day, I was extremely surprised to find that there was already an early build of the ROM available to download. The thread had only been open for a few days and the build available the night before was having trouble getting past the boot screen. I scrolled through the comments which gradually reassured me that the ROM, despite being alpha, was extremely stable and was only missing a few features.
I downloaded the ROM and tried installing it via recovery. It froze on the boot animation prompting fear to spread through my body, the thought of bricking my phone was terrifying. Luckily, I wasn't the only one with this problem. It turned out that this was a known issue and it was easy to bypass by wiping the cache. I did this and was presented with the lock screen I had seen just weeks before in the Jelly Bean demo video at Google I/O 2012. The dotted pattern followed my finger as I swiped across to the right to unlock the phone. Other than the pattern, nothing much was different compared to the Ice Cream Sandwich ROM I had been using for the past few months.
Once into the actual operating system, I did what most people would have done. I tapped on the Google Search bar and set up Google Now. This is the most anticipated feature of Android 4.1, especially since videos online have revealed that it destroys Siri in head-to-head competition.
I spent the next few minutes rigorously testing the new voice search feature. I was extremely surprised at how quick the results showed up. I have been use to using Siri which takes a good few seconds to take in what I have said, and then another few seconds to find me a suitable answer. However Google's search seemed to recognise what I was saying as I was saying it, and only took a second or two to respond. After tweaking some settings I was able to make it so that images showed up alongside the cards just as I had seen in the videos, and I began searching for my favourite sports team (arsenal) and selecting my locations. If I was to believe Google, within a few days I should expect the phone to recognise what information I need and when I need it. I'd have to wait and see.
Now that I'd finished playing with Google Now, it was time to set my phone up as what it is…a phone. The default SMS application wouldn't open, but downloading an ICS themed text messaging application from the Play Store worked a treat. It was only at this point I realised how fast the phone was. I'd just visited the Google Play Store, downloaded an application and set it up in under a minute. I'd heard about Project Butter but I never really imagined that it would work very well on my phone, especially in an alpha ROM.
Project Butter seemed like the one feature of Android 4.1 that I could easily live without. I've never really though that any ROM or stock UI that I had used in the past felt particularly slow, except when I compared it to iOS on my iPad 2. However project butter completely blows away iOS in terms of speed and smoothness. The animations when each window opens are lightning fast but look great. Each application opens almost as soon as I tap it. One way I tested it was to open up the multitasking menu, which had always taken a while to load on ICS. Boom, the second it opened all of the thumbnails loaded with it, with no delay.
As I was scrolling madly through the app drawer to admire the speed of Jelly Bean, I received a notification. It was an e-mail to my Gmail account which had landed in the notification drawer. I pulled down the bar and remembered what had happened in the demo conference of 4.1. Notifications now expand to show you more information than they would before, without you having to open the individual application. Unfortunately, it didn't work in the build I was running. Shame.
A few days after my initial download of Jelly Bean, an updated build was released. New builds were added to the thread just about each day, but this one offered a number of fixes. For one, the phone now worked without me having to be in loudspeaker mode. Obviously I wouldn't have been able to put up with this for long, but I had no plans over the week so it was no trouble until it was fixed. Another fix was the camera. I quickly downloaded and flashed the updated build to my phone as the camera packed a few new features in Android 4.1.
The camera works very well with Project Butter. One of the new features is that after taking a picture, you can swipe to the right and view what you just took. You can also pinch out to see the recent photos in a different view. Both of these gestures bring a very nice animation which fits in with the beautiful animations of Project Butter. The inclusion of the animations in the camera make the entire operating system feel so much more smooth and like it's together. I've always felt that Android has had trouble organising it's applications into one operating system, it never feels together like iOS. That's changed now.
In the latest build, the notifications were fixed. It's a much bigger deal than I thought it would be. I can now expand text messages, e-mails, screenshots and a number of other things to show me more of what I am about to open. To be honest, I could see this being an annoyance on previous builds of Android, as it wouldn't have been smooth enough to pull it off elegantly. However it works very well through Project Butter, and I now find myself swiping away things I know I don't want to open, rather than opening the application itself.
While the updates for my Jelly Bean are still coming out regularly, I feel that the build I have at the moment can't be improved much. There is still a few parts of it that are unstable but it is more than enough to use as my daily ROM, and I feel that I am in a position to give a pretty accurate description of my feelings of Android 4.1.
At first glance, Android Jelly Bean looks almost identical to Ice Cream Sandwich. The search bar is a different colour and the lock screen has some fancy dots, however all in all it's the same. Where Jelly Bean really shines is the hidden features. I could go on for paragraphs about how good Google Now is. It's learnt what I do and often tells me the directions to places I have searched, just like we were told at I/O 2012, however the thing that impresses me the most is Project Butter. When the iPad 3 was released, I was told that you had to see the retina screen to believe it, and I was left very underwhelmed when I actually did come to trying it out. However, Project Butter is something that really does need to be seen before you can believe it, but it might only benefit people who have previously used Android. I'm sure even the most dedicated Android user could admit that more often than not, it would lag when unlocking the screen or scrolling fast through the app drawer. However Android 4.1 is faster than any other mobile operating system I have ever used.
CynanogenMod 10 ROM for Desire S – Link