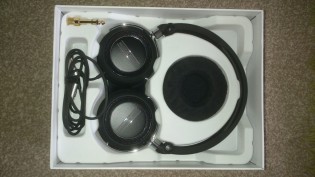 I have kindly been sent a pair of the brand new Musical Fidelity Headphones MF-100 for review.
Just to say this is my personal review and I am not being biased in anyway, and because of that I have kept away from any other review on these headphones because I want this to be my personal experience and not influenced by anyone elses thoughts.
The box the headphones arrived in looks everybit the £119 price tag and what you would expect for this money.  Inside the box they looked even better very well packaged with additional ear pieces a 3.5mm gold adapter for bigger devices and nice little black bag for when you are not using the headphones.
No instructions so I guess the red colour is for my right ear and blue for left !!
All my music is being streamed through spotify
To start with I thought I would use my mobile to play the music.
First track  – M people Search for a hero
One of the great features of the MF-100's is the fact you have a little switch on the lead -One press pauses the  music and two presses changes to the next track.The only draw back is you can't adjust the volume however I suppose with most phones having the volume as separate buttons on the device its not such a hardship.
The sound was good very clear and good upper and lower range but I just felt I wanted it a bit louder and my phone was on max and no other way to turn the headphones louder.
I decided to switch my ipad mini to see if thing would improve.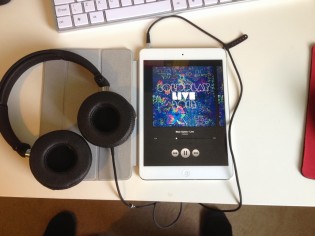 Things didn't just improve they went atmospheric, it was like putting Formula 1 fuel into a road car wow, wow and wow sorry SONY but the difference is so great I cant believe it, so I think I need to start this review again.
Leona Lewis
What I like about Leona Lewis and testing headphones is she mostly starts quiet und builds to the end of the track.  The sound is really strange its so good you can hear sounds I have never heard on the tracks before the sounds are so clear and bass is superb without taking over the track and just becoming all base, then when she sings the higher notes the sound is so gorgeous its hard to put into words. here is one 'emotianal'.
Iron Maiden – Live After Death or maybe not
Any it was time to put Leona to bed so to speak! and bring out the big guns Iron Maiden with their live album – Live after death to see how the headphones coped with something a little more raw. This is the digitally remastered version so a fair test. mmm a bit dissapointing I thought these headphones would make me feel I was at the concert but the track feels a little 2 dimensional not what I was expecting, to give them a fair chance I swithched to Coldplay Live 2012 and the track Fix You that's better now I am there, close my eyes and OMG I get all goose pimples the sound is amazing  these are the dogs b*llocks in headphone, apart from the smell of beer and sweat I could already be there. What  the neighbours must have thought as I was singing at the top of my voice with my arms in the air 'I will try to fix you' its a good job they are so good you cant hear outside sounds like my voice. The sound of Chris's voice and the band are wonderful and my head is banging away now to Yellow, better get on.
Le Onde – Ludovico Einaudi
Time to calm down with some piano, this is a lovely track and it is the piano in its modern raw state, I love the fact you can hear the notes so clearly every little expression like when the keys are hit harder such a contrast to coldplay and so beautiful, you can hear when the pedals are pressed so stunning.
Michael Buble – Home
I love the way they bring the base into the track in a really warm way without it taking over the track but also adding so much to the sound, something I have not experienced before this is a real new eperience for me and sounds very unual in a good way it just takes a bit of getting used to, how do they make a track feel so warm with the base very clever.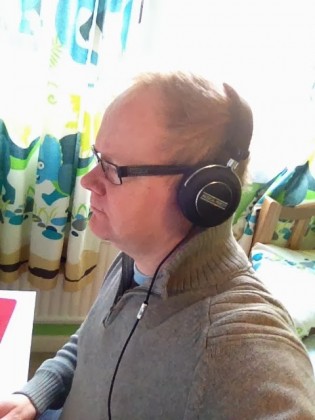 In conclusion the headphone are really comfortable to wear you don't even feel like they are on, they are not heavy and they are fully adjustable the earpieces swival to fit your head and adjusts to bigger heads than mine, there are so many other albums and artist I now need to listen to with these headphones that I dont think I will be doing much writing for a while.
The Musical Fidelity MF 100 must be shipped with Coldplay Live 2012 this is not a request but an essential !! and now back to my concert just missing my plastic beer glass to throw in the air. God help my neighbours.