5 Mobile Android Games Worth Checking Out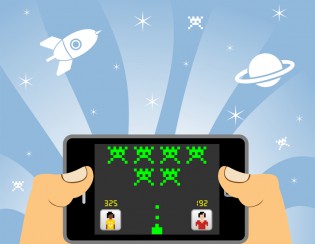 Android owners with even a passing interest in video games have a lot to be excited about. Smart devices are more capable than ever when it comes to handling the necessary technical aspects of gaming, which has led to some seriously impressive results.
However, beyond gorgeous graphics, what it all really boils down to is whether or not the game is actually any fun to play. Not only that, but is it easy to boot up and enjoy whenever you get the urge/some free time? Or is it something that bogs down your device and only incites frustration? Well, with the help of this post, you'll be sure to avoid any aggravation and simply enjoy your experience, because we can all use more time for relaxation. Here are five mobile games worth checking out on your Android device—and they're all free.
Bad Piggies
If you have played/heard of the wildly popular Angry Birds, chances are you'll be familiar with the main characters of Rovio's Bad Piggies. While the pigs are once again after the birds' eggs, this time they're on the attack. Basically, you must use your knowledge of physics and problem-solving capabilities to build machines and steer the pigs to their final destination. It's a little tricky but ultimately a ton of fun once you get used to it.
Disco Zoo
Disco Zoo, created by the team at NimbleBit, takes gamers back to the days of playing Battleship with your friends and family. However, it ditches the naval warfare approach and opts for something sillier, though equally challenging. Like you did in Battleship, you're trying to discover the hidden pieces (or animals, in this case) and eventually throw a disco party. Yes, it's absurd, but it's a lot of fun, too.
Betfair Bingo
Continuing the throwback feel created by Disco Zoo, Betfair bingo embodies the anyone-can-play dynamic of a game that can be traced back to the 16th century. On the Betfair gaming platform, though, everything is modern and stylish. Also, newcomers are offered sign-up bonuses, there's a chance to play for charity, and you can even win some serious cash. This isn't your grandma's bingo, though she, too, could learn to play it pretty quickly.
Pocket League Story 2
Football fans, rejoice, because the cartoon-y Pocket League Story 2 is one of the best sim-based sports games available right now. Developed by Japan's Kairosoft, the title centers on all the aspects of the sport outside of actually playing it. The goal is to grow your team from local heroes to international superstars, all through obtaining the best players, building your own facilities, and nurturing your squad.
Nightbird Trigger X
And now for what's easily the prettiest game on here, Nightbird Trigger X offers fast-paced, pick-up-and-play action for gamers wanting a little more excitement. There's a lot going on in this title from COLOPL, but it's an addictive and ever-expanding (through updates) experience worth playing. If you can't get enough of it, you can always go back and play the previous entries in the Nightbird Trigger series.
So there you have it, five games for your Android that are free to play and sure to eat up any and all of your free time. Did we miss a game that you think should make the list? Make a case for it in the comments section!