Does Ronaldo Really Have Such Fancy Finger-work?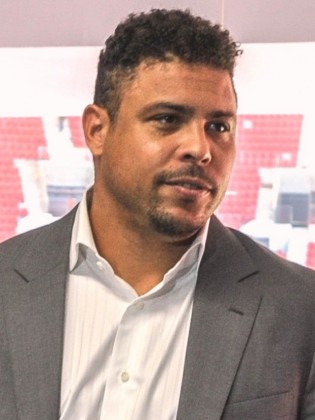 Ronaldo, pictured here, stars in his very own PokerStars ad, image from Wikipedia
Former AC Milan striker and footballing legend Ronaldo has just surpassed his first year's anniversary since becoming a brand ambassador for the casino company PokerStars. Despite being more well-known these days 'The Brazilian Ronaldo', after the emergence of Portuguese star Cristiano Ronaldo, the player rolled back the years and showed some applaud-able skills with several poker chips during his first advertisement for the company. Only there was one problem, the skill was no longer with his feet, but with his fingers.
The ad shows the Samba star flicking, spinning, throwing and catching a poker chip around between his fingers, before dazzling the camera by seemingly pulling three chips from what originally just one. The ad was used to promote PokerStars and their free poker online to what was a booming South American audience at the time. Considering Ronaldo's achievements in football, it was a no-brainer that the poker company chose him as an ambassador, with his popularity across the region, in particular in his homeland of Brazil, a seemingly everlasting bond.
There is however, debate over the ad. Was it really Ronaldo who displayed those enticing tricks on camera for 30-seconds plus, before revealing himself to us? Was it in fact a double, in the same sleek and suite attire as the former Brazilian international who was twiddling the chips about his fingers, before stepping aside for Ronaldo to take the glory?
The answer is; that we don't exactly know. And more to the point, we don't exactly care. For you see, when Ronaldo revealed himself to the camera as PokerStars newest ambassador, many rejoiced at the tricks he had just displayed with several poker chips. It brought back memories of his wonderful skills and tricks with a football during his career, despite the fact these new moves were conducted with entirely different body parts. The simple fact is; it was almost a renaissance of what the two time World Cup winner was capable of. After all, it takes some serious skill, magic and trickery to rise above a pack of footballers to earn Goal.com's "Player of the Decade" award.
In reality, it likely is a stunt (we say stunt, but it was hardly a stunt unless you factor in the risk of broken nails and strained fingers!) double who undertook the task of flicking and flipping the chips before our very eyes. But, for the most part, it is a thing to behold to simply presume that the former great footballer, who was a magician with his feet when playing, can replicate that sort of skill with his fingers and is simply, a truly gifted individual.