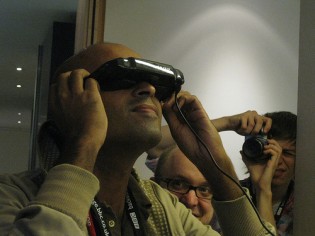 It was two and a half months ago that Facebook revealed their $2billion leap of faith with virtual reality concepts, buy announcing the acquisition of Oculus VR, the most advance virtual reality headset available on the market today.
This ground-breaking development makes clear one thing, the world, or Facebook and Mark Zuckerberg at least, believe virtual reality to be the next conquest in computing platforms and why shouldn't it be? The graphics on gaming platforms these days are spectacular, with many visuals leaving fans in awe due to the realism that is on the screen before them, not to mention the added bonus of being able to manipulate what you do and where you do it, in this virtual reality that is being conceptualised.
When the idea is put to good thought, we are actually not that far away from advancing technology to a virtual reality era. As mentioned previously the graphics on gaming platforms are now incredibly enthralling, leaving little to the imagination due to the specifics and attention to detail. Virtual sports in gambling are not that far away from pristine quality either.
bgo, for example, offers an extensive range of virtual sports to enjoy. This includes virtual cycling, held at the BGO Velodrome (extremely reminiscent of a certain other Velodrome!) and virtual tennis to stake your bets on. Imagine, with virtual reality technology, staking a bet on one of those virtual sports, putting on your virtual reality goggles and taking a seat in the virtual audience to see how your bet gets on first hand? No worries about injuries, weather or disqualification, your virtual sport-star is entirely responsible for your success or failure.
Alright, admittedly, that wouldn't be as fun as actually playing tennis, but still, the idea would likely see huge support and success, given the speed at which virtual sports are played. Imagine it as watching a shortened version of a sport, with more speed, more action and more enjoyment!
The action wouldn't stop with virtual sports though, as other virtual genres would undoubtedly see success as well, such as role playing games, action adventures and even driving games. But thinking too much about the future of virtual reality would be getting ahead of ourselves at this stage. After all, Oculus does not offer products available for purchase as of yet, with the only thing on the market being a prototype for developers to buy, and even then that costs a whopping $350.
Virtual reality does indeed have the potential to usher in a new era of how we communicate learn and even play, the $2billion buy-out fee Facebook paid to get the Oculus software tells us that much for sure, but don't expect it to be any time soon. A project of this magnitude should be time to adapt and progress naturally; otherwise a rushed version could tarnish many people's beliefs that virtual reality is the next big thing to conquer in technology.