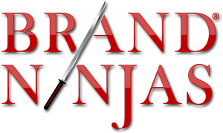 Sponsored Post
One of the many questions that I'm frequently asked is: "What is a brand?" That's a great question, because it's more than just a logo. It's your experience, it's your reputation, it's all of your history–the good, the bad–and lastly, it's the way you look. So, In a nutshell, it's a multitude of different components–or tools–that fit together to create a company's persona. It's very important that every business' persona sends a consistent message to the consumer. If consistent messaging is achieved, and your company's track record is solid, then you will begin to build brand equity.
Another question I'm often asked: "Can you build a brand over night?" The answer is no, but you can build the tools that will cultivate a huge part of your brand in a span of 5 to 20 days. The rest is up to you and your business practices. Now, you're probably asking: "Why did you say 5 to 20 days?" Well, that is the span of time allotted for holding design contests on Brand Ninjas (www.brandninjas.com).
What is Brand Ninjas (brandninjas.com)? Brand Ninjas–which was launched in the Fall of 2011–is a creative marketplace that aims to be a virtual design firm for small businesses. Our goal is to build solid brands for companies who can't afford to spend the astronomical pricing demanded by Ad Agencies and Design Firms. We offer logo, brochure, collateral, stationery, package, website, advert, signage, and font design contests that range from 5 to 20 days, and start in the $200 range for a logo contest and $400 range for a website contest. Our thriving community of Freelance Graphic Designers includes 300+ designers–and growing daily–from all over the world. Our platform is user-friendly, our payment mechanism is PayPal, and we're third-party business verified.Ê Think of us as the safe way to outsource.
On the Designer side, Brand Ninjas offers the ability to make money, and the opportunity to grow as a designer by achieving the famed Ninja status. Ninja status can be earned through the world-renowned Dan Ranking system–white belt through black belt–of traditional martial arts. The ranking is calculated by totalling the designer's points earned from placing in the top three spots within the design contests. Each designer's point total translates into a belt rank. Once the designer has climbed the belt ranking system and paid his or her dues at the black belt level, the ultimate achievement will be realized–Brand Ninja status. Many exciting perks await those who achieve Brand Ninja status…
SO, WHAT ARE YOU WAITING FOR? START BUILDING YOUR BRAND TODAY AT BRANDNINJAS.COM!
OR, MAYBE YOU ARE A DESIGNER? TEST YOUR SKILLS ON BRANDNINJAS.COM, AND YOU COULD BE THE NEXT BRAND NINJA!
Link: Brand Ninjas