This is a sponsored review of EmailTray. An Email client for Windows and Android.
EmailTray is an email client for Windows and Android which is available for free with the option to pay for a premium version.
There are hundreds of worthy email clients available for desktop computers. The most commonly used would be Microsoft Outlook, which has a huge fan base because it comes installed on many computers and is packaged with Microsoft Office. However, just because a lot of people use it doesn't mean it's the best out there, this has been proven with Internet Explorer. Microsoft Outlook makes email way more complicated than it needs to be, it's got a user interface with too many buttons, most of which are completely useless.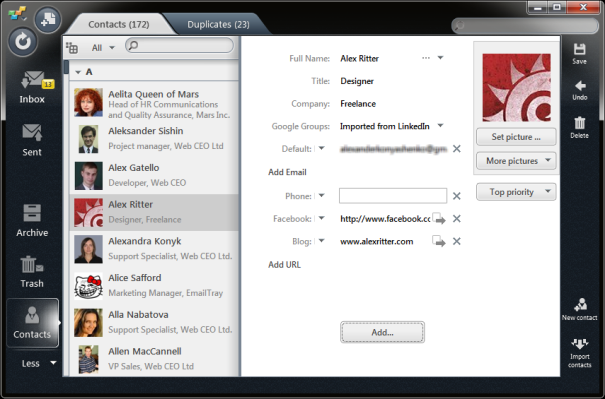 This is where EmailTray excels. Some aspects of the user interface lack some modern polish, but it is no more complicated than it needs to be. The sidebars have a few large buttons with the usual commands such as sent, trash, new etc. Just because it's surface looks less complicated doesn't mean that it's any less useful than Microsoft Outlook, in fact it's completely the opposite. So many times I have found myself in quite a hurry to send an email on Outlook and have had to hover my cursor over each button to learn what each one does. EmailTray is very to-the-point, but it lets you access more buttons such as contacts by expanding the 'more' pull out.
EmailTray prides itself on organising emails according to priority. Once the client is installed, it analyses each of the emails already in your mailbox and decides, according to your activity with each contact, what is of high, medium and low priority. This can be changed manually of course. It's a nice way of doing things. I'm often getting email from services I signed up for which I no longer use, it's lazy of me, but it's nice to have a service which can automatically put these emails into a low priority box so that I don't get an alert when they arrive. For example, I use Groupon but only want to read the emails when I have time, I don't want the notifications all the time. From my previous experience, EmailTray recognised that Groupon emails were of low importance and so didn't bother me when I received an email from them.
EmailTray is also available to download from the Google Play Store for free. It offers the same priority based system as the desktop application, and even allows you to sign in to your EmailTray account with your email address, so you don't have to spend as much time setting up rules and accounts.
One of the best things about the EmailTray Android application is the user interface. It's one of the few apps which actually follow the Holo theme introduced in Ice Cream Sandwich. However tapping the bar at the top brings up the additional mail boxes, including the priority folders.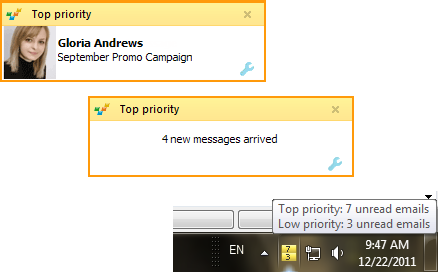 Premium Features
As I said before, EmailTray is free. For the most part, the free version is enough, however power-users will definitely want to think about paying for the premium version.  The paid version lets you password protect your account so that you can safely let others use your computer. It also allows you to create an individual signature for each contact or folder. This is a great feature if you use the same account for business and personal use.
EmailTray – Conclusion
Such simplicity and usability in an email client makes it a must have for busy people who regularly use email to communicate through the day. EmailTray manages to pull this off extremely well and puts the icing on the cake by having an amazing Android application which fits in very well with Ice Cream Sandwich and Jelly Bean. EmailTray is simpler and quicker than Outlook and Thunderbird by allowing you to customize each recipient's signature and organise them into folders.