The HTC One X was released in the UK on April 6th and will be coming out in the US on May 6th. There is some good, some bad, and some just plain ugly to be seen from this phone.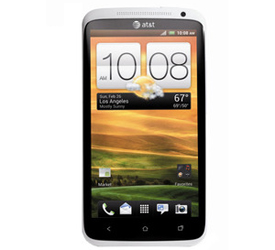 The Good
The HTC One X is very fast. With 1GB of Ram and a quad-core 1.5GHz CPU it is nearly twice as fast as the IPhone.
It has an 8MP rear facing camera capable of 1080p video recording, and an LED flash bright enough to take great pictures on the darkest of nights. The 4.7" 720p laminated Gorilla Glass display will allow you to see photos, videos, and games with great clarity, even at a 90 degree angle.
With Beats Audio and stereo sound, even though the speakers, the sound is absolutely amazing.
The Android Ice Cream Sandwich v4.0 OS runs smoothly and is extremely user friendly.
My favorite thing about this phone is that it has a gently curved shell which sits very comfortably in your hand.
The Bad
There is very little about the HTC One X that can be seen in a negative light. My biggest peeve with this phone is that it only comes with 32GB of memory. To be honest, that isn't really enough in a smart phone, especially considering that it is essentially running two OS's.
4.7" may sound great, but it's a little oversized. It won't be able to easily fit in a pocket. For those with small hands it will be difficult to keep a good grip on.
With the battery being non-removable, those who are heavy users will need to carry a phone charger around with them, which is quite annoying.
The trend in phones of being able to take higher quality video than the display can handle is quite annoying to me, as well. I mean, what's the point?
The Ugly
There is one thing about this phone that I really dislike. The camera lens protrudes from the back. If stuck in a pocket with change, the lens will get scratched, thus ruining one of the biggest selling points of the phone.