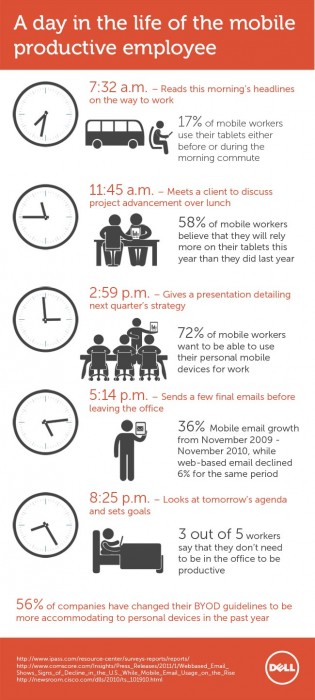 When surveyed, 72 percent of employees said that they want to be able to use their personal devices for work. In fact, whether employers are prepared or not, the BYOD revolution is already taking place—more and more workers are turning to tablets and other mobile devices to access company data and network resources.
This shift from an office-bound workforce to a mobile one has the potential to be very rewarding for both employees and businesses, but only if the proper steps are taken. Here's a look at how people are working now and what employers can do to keep themselves safe:
BYOD is here to stay. Employees want the freedom to be able to get work done on any device they choose. 58 percent of mobile workers believe that they will rely on their tablets more this year than last year. In response to this demand, 56 percent of companies say that they have changed their BYOD guidelines to be more accommodating to personal devices in the past year, but there is still more to do. Businesses need to develop a comprehensive BYOD policy and make all their employees aware of what they can and cannot do with company resources on their personal devices.
Employees are working from everywhere. Three out of five workers agree that they don't need to be at the office to be productive. Employees are now pulling out their tablets and getting work done everywhere—from the morning commute to the couch at home. With that in mind, businesses need to find a way to securely make information available to employees when they need it.
Workers are becoming more productive. Mobile devices have the potential to allow employees to work smarter and to get things done at the speed of the global marketplace. Businesses need to take proactive steps in allowing their employees to take advantage of these benefits.
How do you use mobile devices in your business? Share your thoughts on BYOD in the comments.
Alan McMahon works for Dell and is involved in marketing consumer and enterprise solutions across a range of products from tablet PCs and servers to storage and virtualization. Alan McMahon is based in Ireland and enjoys sailing as a pass time.