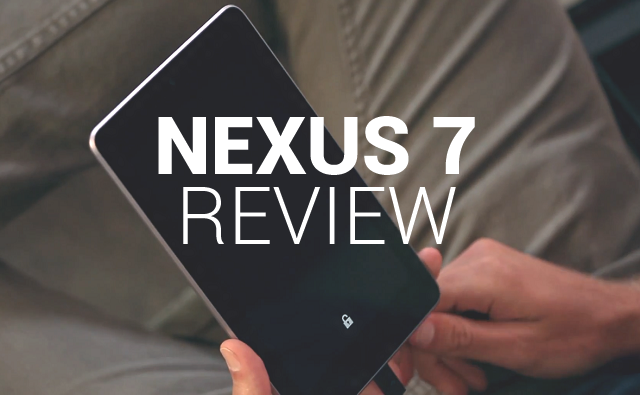 Earlier this month, Google launched their flagship tablet. Made by Asus, their Nexus 7 perhaps spells the end for the multitudes of cheaper, flimsier tablets that run also run android. Selling from only £159 in Britain, the Nexus is hugely cheaper than the likes of the iPad or the Samsung Galaxy Tab, and at only 7 inches, the Nexus becomes one of many tablets filling the gap between smartphones and 10 inch tablets, but with an Ipad mini rumoured to be just around the corner, should the Nexus 7 be your tablet of choice?
—————————————————————————————————————————-
DESIGN | 8.5
Asus already have a reputation for building quality electronics, and the Nexus 7 is no different, feeling expensive and solid in the hand. The large bezels at the top, bottom and sides of the device somewhat dwarf the 7 inch screen that sits on the front of the device. Around the edges the device is rounded, with a thin piece of metal look plastic securing the corning class. On the rear the tablet is finished off with a soft touch, easy grip back, making the device much easier to hold than other tablets such as the ipad. The right side of the device features the power button and volume buttons, whilst on the bottom is the usb port.
—————————————————————————————————————————-
HARDWARE | 9.0
Despite being small, the Nexus 7 doesn't half pack some punch. Featuring a quad core Tegra 3 CPU clocked at 1.2 gHz, the device is able to smoothly run anything you throw at it, whilst 1gb of RAM makes multi-tasking a breeze. The tablet features Bluetooth for file sharing but connectivity-wise, that and Wi-Fi are all you're getting- with no 3G or 4G versions available. The Nexus 7 is available in both 8GB and 16GB versions, although with no SD card slot, many may feel that they could do with a bit more room.
—————————————————————————————————————————-
SCREEN | 8.0
Featuring a 1280X800 LCD display, the Nexus 7 is right up there when it comes to screen quality. 216ppi means that jagged edges are nowhere to be seen and viewing web pages, images and movies is a delight, with the 7 inch screen providing comfortable viewing. Compared with Super AMOLED devices, the colours on the screen perhaps look a tad washed out, although to me the colours were vibrant and much less exaggerated than on other devices.
—————————————————————————————————————————-
SOFTWARE | 7.5
Obviously with a tablet straight from Google, you're going to get the latest version of android as and when it becomes available; a definite plus. The Nexus 7 ships with Jelly Bean 4.1 as standard and packs all the features showcased at Google I/O. Project butter means that the device is silky smooth when navigating through menus, whilst Google Now is good fun to play about with and definitely has more usability and less of a gimmicky feel than its rival Siri. Unlike Siri, Google Now is more of a progression of Google's already very good speech recognition search facility, now capable of carrying out a variety of different commands. On the Nexus 7, you perhaps won't be able to get the full benefit of Google Now, with many of the features, such as weather and traffic, clearly being more applicable if you're out and about, which would require a mobile data connection, which as previously mentioned, is not present. Despite this, Google Now is definitely an impressive feature and can be a very useful tool. The Nexus 7 is the first of Google's devices to come with Chrome web browser as default. It's an impressive browser and on a 7 inch tablet feels much more like a desktop experience than a mobile one. One area of disappointment for myself with the Nexus 7 is that is doesn't support Flash. Many websites now use the superseding HTML5, but being from Britain, much of my favourite TV programmes are available on BBC iPlayer and Channel 4, both sites which require flash to play video. I hope websites make the change sooner rather than later to HTML5 as currently the lack of flash inhibits my web browsing experience.
At time of writing there are not a great deal of apps specifically available for Tablet. Apps such as Twitter and Facebook are downloadable, although they are the mobile editions, rather than being made specifically for tablets, something that was slightly disappointing. The 7 inch screen does somewhat sit in the gap between smartphones and the bigger tablets, so apps designed for phone screens can just about get away with looking acceptable on the Nexus's screen, although it would be nice to see some apps specifically designed Google's flagship device in the near future.
—————————————————————————————————————————-
SUMMARY | 8.5
To summarise, the Nexus 7 is an excellent tablet. At just £159, it is incredibly affordable, whilst also having specifications of a high end device. Personally I prefer the 7 inch form factor over the larger tablets as it sits nicely in the hand and is perfect for reading on. The build is solid and although not comparable to the Ipad, is definitely one of the better made tablets. Whilst it is slightly disappointing not to have an option for increased storage, 8GB or 16GB will be big enough for most, and although featuring no 3G, it does mean that no contracts or extra payments are required.
Overall the Nexus 7 is a quality device and definitely one to consider if you're in the market for a tablet device.
—————————————————————————————————————————-
This is a review by Ben Johnson, Follow him on Twitter!
—————————————————————————————————————————-
Other Nexus 7 articles on Geeks Have Landed:
– Apple's iPad Mini to Compete With Nexus 7?