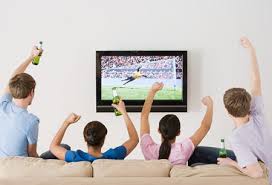 Its much easier nowadays to keep track of the world's sporting action. Instead of having to huddle round a radio, or rifle through the sports section for yesterday's scores, we can read live updates from competitions all over the world on sites like BBC Sport.
In fact, many technological innovations in media have been driven by sport. The first ever transatlantic broadcast, in 1962, showed part of a baseball game between the Phillies and Cubs; the first time many European viewers had watched the sport. When the BBC first attempted to broadcast live football, in 1938, they had to organise a friendly between Arsenal and Arsenal Reserves. Just 16 years later British viewers were able to enjoy live broadcasts of the 1954 World Cup in Switzerland.
The invention of the internet however has exponentially increased our opportunities not just to observe, but to interact with live games, talk with fellow fans and react instantly to in match events with live betting markets.
One area where technology has definitely made a difference is in on field discipline, through so called "instant replay" systems which allow referees to re-watch contentious events. Instant review is already widely used in NFL, Tennis and Cricket, though football officials are still cautious of the innovation.
Instant review technology takes a lot of human error out of tight decisions, for example in cricket an infrared camera can check for a "hot spot" on a bat to see if it was nicked by a ball. In games with very tight, technical decisions; instant review allows play to proceed more smoothly and helps reduce uncertainty – something welcomed by fans and players.
The cameras that silently record and broadcast games don't just put those images on your TV; the broadcasts are sold to a number of sources for various purposes. Bookies have both human and computer supervision over the live feeds before updating their odds. If an NFL player is making a run towards the goal line; you'll see the odds on that player scoring diminish the closer he gets to home!
If you actively bet on sports, especially on in-play markets, its easy to get confused by the profusion of odds you'll be flooded with; which may be presented in different formats at different times. Using the betting calculator at bookies.com you can get a full breakdown on the odds and plan out your bets, as well as learning your options for each-way and place bets.
Technology has definitely changed the way we play and watch sport. Video recording innovations have (for the most part) made official decisions easier and more consistent; and its arguably the viewing experience which has changed the most. Not only can we watch almost any pro sports game live in full HD, we can tweet the commentators and even talk to players after the game with social media. The whole way through, you'll have been listening to commentary, making bets or even reading live analysis online!