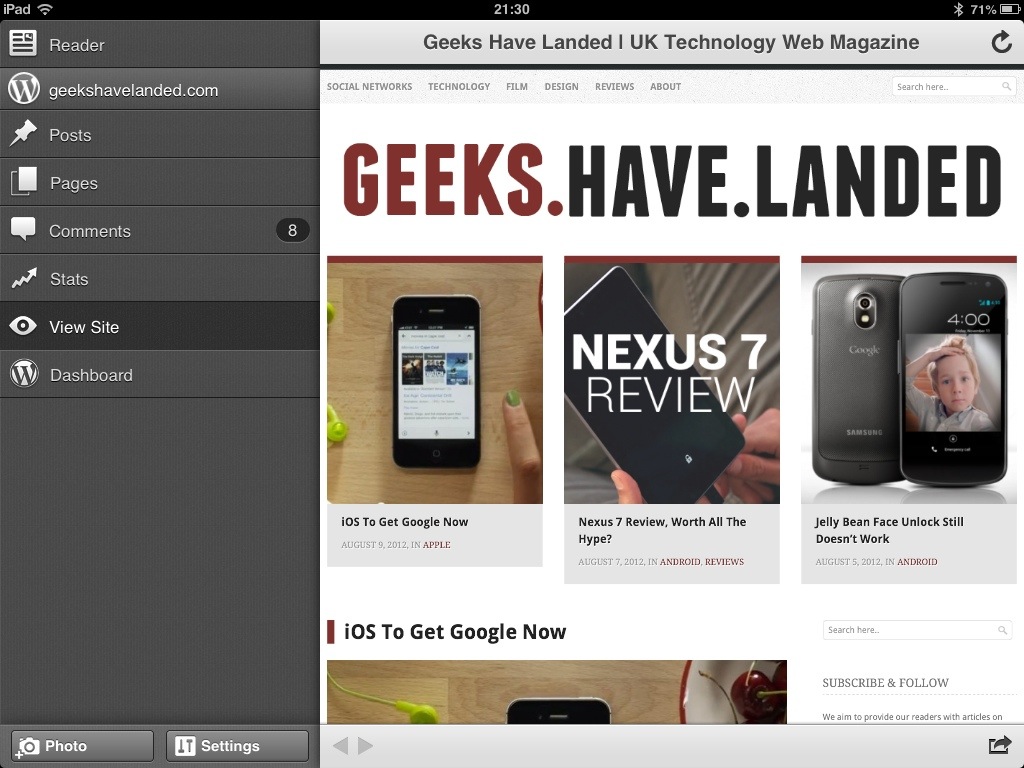 WordPress have updated their iOS application for both iPhone and iPad. The update is a welcome change for bloggers who up until now have had to put up with the annoyingly boring and difficult to use UI of the previous application.
The main change is the sidebar, which contains each of the sections of a blog or website. The sidebar is brought up by swiping to the right, similar to that of the Facebook app. There are loads of changes including a new icon, here is the full list below.
★ Major UI Refresh!
– New sidebar menu for quick navigation.
– Sliding panels on the iPad for greatly improved navigation and ease of use.
– Updated colors and graphics.
– Improved sign up experience.
– New app icon.
★ Support for Post Formats.
★ WordPress.com Reader and Quick Photo added for the iPad.
★ New Simple post preview feature for the iPad.
★ All-new WordPress.com stats.
★ New WordPress.com Friend Finder feature helps you find your friends blogging on WordPress.com.
★ Landscape orientation support throughout the app.
★ Easy access to your site – view it and access the web dashboard right from the app.
★ Last but not least – many reliability improvements and performance tweaks.
You can now also access the dashboard and view previews of posts and your homepage directly from the application. I have never completed a full post using either the Android or iOS applications of WordPress, simply because it wasn't good enough and it was easier to log onto the actual website using the device's web browser. However that has changed now, in fact this entire post was created and published using the new iPad update.