Wednesday marked the first day of Google I/O 2012, and the announcement of Android Jelly Bean, version 4.1 of the Android operating system.
Being 4.1 rather than 5.0, many people (including myself) expected Android Jelly Bean to only be a slight upgrade to it's previous version. We knew that their would be slight changes to the UI, having seen blurry pictures of a white/grey search bar, however as far as new features go we were completely left in the dark. Google really did a pretty great job of hiding their new features.
Below is a small rundown of the Android enhancements coming in Jelly Bean.
Project Butter
Android Jelly Bean is faster and smoother than any other Android version. By boosting CPU and other technology mumbo jumbo, 4.1 has graphics, animations and transitions which are buttery smooth. See the connection?
Notifications
Before iOS 5, iPads and iPhones had a very poor notification system. That's why they decided to use a drop down notification system, with no care in the world that it was a blatant copy of Google's idea, used since the first Android phone, the G1. So, Google need a new notification update to blow Apple out of the water, and they have done just that.
Android Jelly Bean has an updated notification drop down menu which lets you interact with the notifications without even opening the dedicated applications. The windows are bigger, meaning if you have an alarm, you can snooze or disable it right from the drop down. If you're late for a meeting, you can e-mail all of the attendees informing them, directly from notifications.
All this, and it looks incredible.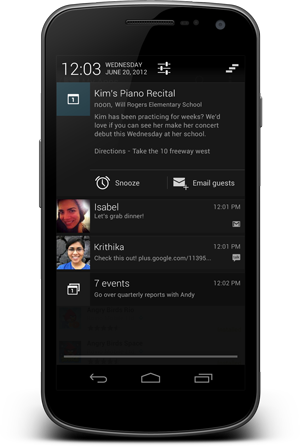 Widgets
According to the Android website, 'Widgets work like magic'. This is quite an overstatement, in fact it seems like something Steve Jobs would say about the iPad. But the new widget system is pretty cool. Now, instead of having to make sure you have enough space on a home screen before moving a widget, you can just go ahead and drag it there. The icons that you have on that current page will move around so that you can fit the widget there, and if there isn't enough space, it will make the widget smaller.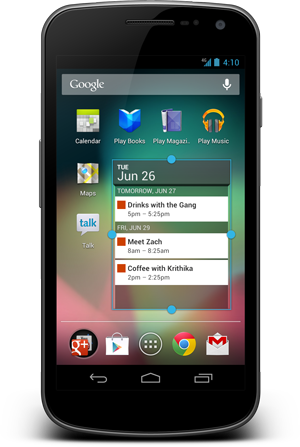 Camera and Gallery
Android Jelly Bean brings the same speedy update to the gallery, that Ice Cream Sandwich brought to taking photos. Now, after taking a very speedy snap, you can view the recently taken photos by swiping to the side. From here, you can edit the photo as well as share it via e-mail, social networks, messaging, bluetooth etc.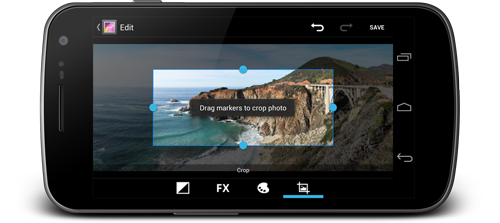 Keyboard
Poor SwiftKey. Just a matter of days after releasing the public version of SwiftKey 3, Google announce that their new default keyboard will feature similar abilities. One of the best features in SwiftKey is the prediction system, which basically guesses the rest of your sentence after you have typed the first word. Now, Android Jelly Bean has this as the default feature. Awesome for beginners who aren't aware of other keyboards, but it's probably bad news for SwiftKey.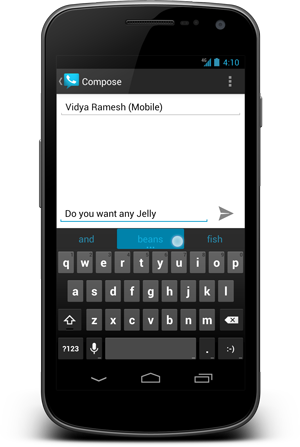 Google Search, Voice
Android Jelly Bean sees a complete overhaul to how Google wants it's users to search for content and information. Search has always been one of the primary features of Android since the very beginning, and it's always done it very well. However, being several years since the last revolutionary update, Google have addressed this in Jelly Bean. Search is now done in the same way as it has always been done, tapping the microphone icon on the search bar and now dragging up the app drawer icon.
Google Search is now a true competitor to Siri. It's done with cards of information. You ask it something, it responds (astonishingly quickly) with the information you need in the form of a card. Be it weather, sports, film times, news, information about random topics, Google will show you the information you need very fast.
Google now even predicts what you are going to do. For example if you follow the same route to a destination at a certain time or day each week. Eventually Jelly Bean will set a reminder for you automatically, as well as give you a route and get traffic reports.
What are your opinions of Android Jelly Bean? Personally I think it's an incredible update, especially when compared to the very underwhelming iOS 6 update. Google's new update make everything look better, and much easier to use., while still using the amazing holo theme that i'm sure nobody is tired of yet.