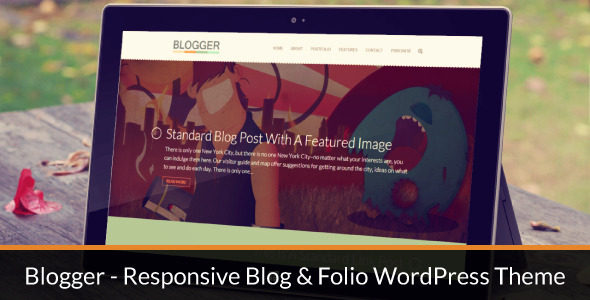 WordPress is an amazing platform for people who want to get into the website game. Many of the biggest blogs and websites in the world now use WordPress as a way to manage their site, as it is very easy to operate and has almost limitless possibilities in terms of design. Sony, Playstation, CNN are just some of the popular brands that use the CMS service, which is also used to manage Geeks Have Landed.
Independent developers are constantly working on new and interesting designs, which can be installed on a WordPress website in a matter of seconds. Each day the quality of these designs appears to improve, so much so that it's now quite difficult to distinguish the difference between a website running WordPress and one that isn't.
'Blogger' is the first theme to appear in our WordPress Theme of the Week segment. Intended as a blog/magazine theme, Blogger is very different from some of the standard blog designs you get all over the web, using massive images and eye catching titles to fill your page, leaving no space unused.
The design is fully responsive, meaning it optimizes itself depending on what type of device you are reading it on, and it also has integration with Twitter and Instagram.
[zilla_button url="http://themeforest.net/item/blogger-responsive-blog-folio-wordpress-theme/4597525?WT.ac=category_thumb&WT.seg_1=category_thumb&WT.z_author=AVAThemes" style="grey" size="medium" type="round" target="_self"] Blogger ($40) [/zilla_button]  [zilla_button url="http://themeforest.net/item/blogger-responsive-blog-folio-wordpress-theme/full_screen_preview/4597525″ style="grey" size="medium" type="round" target="_self"] Demo [/zilla_button]