Last week technology fans were very disappointed to find that, due to a pretty huge storm headed towards New York, Google were postponing their Android event, putting a hold to the official announcement of upcoming Nexus devices, as well as Android 4.2. Although Google are still planning to hold an event were they can officially showcase the new products, they decided that they would go ahead and reveal them today, the day of the delayed event.
So, what's new?
Hey! The Nexus 4, that's new! Well, maybe not as new as Google might have hoped, after countless leaks on the internet over the past few weeks. I'm sure they'll think twice before trusting the Carphone Warehouse with a secret anytime soon. Nevertheless, the Nexus 4 made it's first 'official' way onto the internet today, this time a real insight into the new features on prices. There aren't many new features when you compare this model to last year's Galaxy Nexus. This model has been made by LG rather than Samsung, however as Google have the say in what the device actually looks like, it appears to be almost identical at first glance. It has Wireless Charging, a 4.7″ Gorilla Glass 2 screen and a 1.5Ghz Snapdragon Processor. The quality of the rear camera is 8MP, with a 1.3MP front facing snapper for video calling and self portraits. The Nexus 4 will ship with Jelly Bean 4.2, which has slight changes over it's previous version.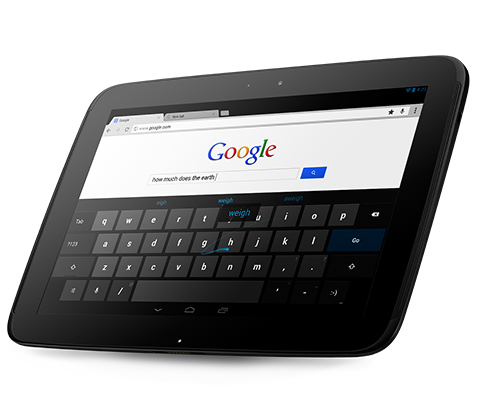 Again, with it's fair share of leaks on the internet, the Nexus 10 tablet made it's first official appearance today. It's substantially cheaper, lighter, and potentially better than the iPad, which is inevitably what this product will be compared to for the majority of it's lifespan. The screen on the Nexus 10 is..no way, 10 inches. But while naming unique products may not be Google's strongest point, the design and features of the new tablet certainly is. The 2560×1600 display on the Nexus 10 is 300 pixels per inch, destroying the 264ppi display of the iPad, basically meaning that the Nexus tablet is leagues ahead of the 'superior' Retina display on Apple products. Whether this is noticeable in person or not, remains to be seen. The speakers on the new Nexus are front facing, meaning that they should easily out perform the iPad's annoyingly placed speaker. Again, this is something which will need to be checked once companies are able to get their full hands-on. The Nexus 10 goes on sale on November 11th for the reasonable starting price of £319.