Since getting my iPad back in November, Safari has been my number one browser. I'm usually one to change the default applications on my phones, for example I used Opera on my Nokia n95. However there never seemed anything wrong with safari, it does everything pretty well while sporting the Apple design which made me opt for the iPad in the first place.
In the last year or so, there have been many browser additions to the App Store. Some good, some bad and some are blatant copies of already released applications. But which are the best iPad browsers?
Best iPad Browsers: Chrome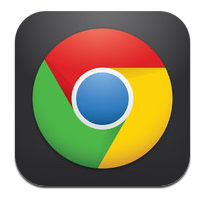 Chrome is one of the biggest names in handheld web surfing right now. The beta version was released for Android at the start of this year and it was released on iPhone and iPad last month. The thing that makes Google Chrome so appealing is that you are using a piece of software which is also available on PC. It syncs perfectly well with previously visited sites, bookmarks etc, and you can even open the page you were just visiting on your tablet, mobile or PC.
Chrome is the most used browser on desktop right now, which means anybody with a mobile or tablet has or will try out the mobile version as it means that they can tie all of their web surfing information together. However, Google Chrome for iPad doesn't really offer much that Safari doesn't already. It has an incognito mode bud Safari has this feature in the settings menu. In fact one of the only improvements is that it looks like Chrome, which personally I'm not fussed about. Safari doesn't look bad at all.
Best iPad Browsers: Dolphin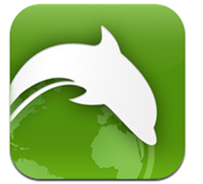 Dolphin Browser has been around for quite a long time. It's been a favourite of mine on Android since getting my Xperia Arc in April 2011. Since then, it's had a UI change and has added a lot of new features, it has also been released on iOS.
Dolphin has a design similar to Google Chrome, complete with an omnibar and an easy to use tabbed interface, however Dolphin prides itself on unique features. My favourite feature of Dolphin is the ability to go to a website or issue a command by drawing a gesture. For example, I have it set so that when I draw a 'G', I get directed to Geeks Have Landed. Installed by default are command gestures, such as drawing a back arrow to go back to a previous page. When I installed it, I never thought I would use the gestures as it seemed like a bit of a gimmick, but it works well which  makes it a pleasure to use.
Pages load fast, the interface is recognisable to use and it has features which make it unique, but the one thing that keeps me from using Dolphin on iPad is the green colour scheme. I'm not sure who was in charge of design when creating the application, but the bright green browser looks tacky compared to it's competitors.
Best iPad Browsers: Kikin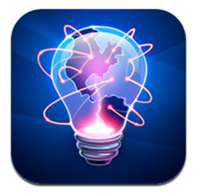 I was recently drawn to Kikin following it's promotion on RedmondPie, and have been using it for the past few days. Kikin is yet another iPad browser which features a UI almost identical to Chrome. It has an omnibox and a tabbed bar across the top, both of which are features were made recognisable by Google. But Kikin isn't a complete copy, as it has features which make it unique.
The main feature of Kikin is that it can take a word from any web page and give you relevant information based around that word. For example, if you were to hold down on a word in an article that you didn't understand, it would come up with web pages similar to that word and also give you a definition. If you hold down the name of a film, it will come up with reviews of that title. These are just some of the ways that you can use the feature.
Kikin also has some extra little features which make it a true competitor on the App Store, for example the ability to go to full screen mode, a feature which isn't available on Chrome.
The Winner: Safari
Safari was a browser I was originally going to leave out of this little competition when I decided to begin writing it last week. But the more and more I tested out different browsers from around the web, the more I got frustrated that each of them missed a feature that only Safari had…opening links from other sources. Of course, this is Apple's fault. They have made it so that you have to open links in emails and applications in Safari. By being so demanding they have given Safari the edge over each of their competitors, no matter how  well the others work.
However, if you are desperate to try out something other than Safari, I would recommend trying each of the above out. Chrome is good if you use it elsewhere, Kikin is really useful for learning things as you browse, and Dolphin works really well provided you can put up with the green design.
Also Consider…
Best iPad Browsers: Dual Browser
I managed to snap Dual Browser up when it was still free, and have found quite a lot of use for it in the last few weeks. Dual browser isn't really an application you would use for all your web browsing, because you don't need to look at more than one website at a time unless you are working or comparing something. But it advertises itself and a browser and in it's own league it's a very good one. It just shouldn't replace any others.