A story has been emerging over the last couple of weeks about a man who was unfortunate enough to be in possession of an exploding Galaxy SIII. After a long investigation by Samsung, it turns that he actually microwaved the Samsung to fix some water damage he had caused the device, resulting in the fire damage.
The story began last month, where Boards.IE member dillo2k10 reported that he had been driving in his car, when out of nowhere the Galaxy SIII caught fire from the inside and as a result, the bottom exploded.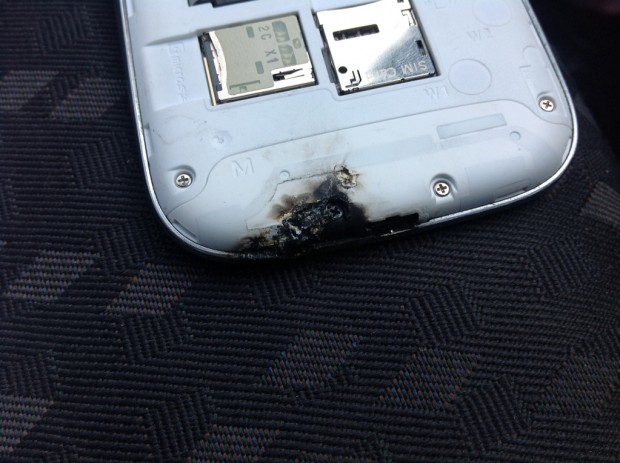 Samsung, quick on the case of concerned customers, were quick to issue a statement regarding the issue;
"There have been recent online posts displaying pictures of a Samsung GALAXY SIII that appears to have heat-related damage at the bottom of the device. Samsung is aware of this issue and will begin investigating as soon as we receive the specific product in question.
Once the investigation is complete, we will be able to provide further details on the situation. We are committed to providing our customers with the safest products possible and are looking at this seriously."
Result of the Investigation: Microwaved
Today Samsung returned their focus to the matter, following the return of the investigation results. Fire Investigations UK, the company hired by Samsung to carry out the investigation, found the following;
"The energy source responsible for generating the heat has been determined as external to the device. The device was not responsible for the cause of the fire."
But possibly the most interesting results concluded by the FIUK is this;
"The only way it was possible to produce damage similar to the damage recorded within the owner's damaged device was to place the devices or component parts within a domestic microwave." (source)
That's right, a microwave. He'd microwaved his Galaxy S3.
Realising he was busted, dillo2k10 has issued commented on the matter, admitting full responsibility for what happened to the phone and retracting his previous comment.
"I would like to retract my original statement. The damage to the phone was caused by another person, although they were attempting to recover the phone from water this later caused the damage shown on the phone. It occurred due to a large amount of external energy and there was no fault with the phone. This was not a deliberate act but a stupid mistake.
I am unable to comment any further." (source)
So, the Galaxy SIII does not explode and the only risk to purchasing it remains to be the large hole left in your wallet.
Image: John Biehler