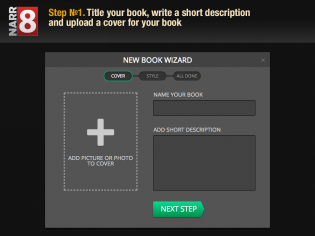 If you haven't yet heard of NARR8, allow us to introduce you. 
NARR8 is a free mobile app available on for iOS (iPad and iPad Mini), Android 4.0+, and as of Mon. June 24, Amazon Kindle Fire. A digital publisher of motion comics, interactive novels, and educational nonfiction series in a slew of genres, NARR8 boasts stories for all tastes: horror, mystery, action, science fiction, and more, bringing all original content to life with fluid animation, HD effects, interactive and gamification (games within the digital content) elements and full music soundtracks.
 What's most exciting about NARR8, however, is that as of early June, NARR8 is allowing you, the reader, to write the stories. Enter StoryBuilder, NARR8's new user generated content editor tool allows for anyone – indie artist, aspiring writer, hardcore fan, to create his or her very own fan fiction with the help of a single tool. A web-based program with supplied graphics, animations, word processor, sound effects, and more, StoryBuilder is easy-to-use, designed to allow users to focus on the assembly of their very own masterpiece. Soon, StoryBuilder will allow artists to upload their own graphics, as well!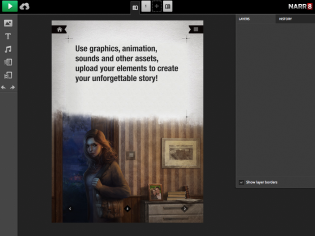 Once complete, user stories will face a review period of up to 72 hours (things such as unnecessary profanity, lewd or crude content will not be admitted). After the review period, users creations will be uploaded directly to the NARR8 platform, alongside NARR8 original series, shared with the app's 800,000+ users.
 "It has always been important to NARR8 to be able to assist talented artists and creators, most importantly our readers. By implementing 'StoryBuilder,' we are allowing our creative fans who wish to share their stories with our 800,000+ users all over the world. We're excited to continue evolving the NARR8 product and look forward to what this great addition will bring," said Founder Alexandr Vashchenko.
 StoryBuilder will also include a payout for the user, eventually. NARR8 shared with Geeks Have Landed that although user generated content will be available for free, their eventual plan is to license popular fan fictions to their platform, giving creators a cut of the proceeds once monetization of the series begins (monetization will begin if and when the user title reaches over 1,000 downloads).
 StoryBuilder is available to all registered NARR8 users, who will need their account login information to access the website.
 As mentioned, NARR8 is free to download, and can be downloaded on the Apple Appstore, Google Play, and the Amazon Appstore.
 Check out the StoryBuilder tutorial videos."