I thought I would share this new fun Penguin game with you.
This is a FREE app (the kind I like the best) available through the Apple App store.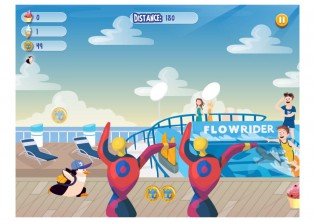 The game is very simple a little Penguin has sneaked on-board a  Royal Caribbean ship, the aim is to get as far as you can without getting caught.
The user is encouraged to avoid sprinklers, dodge basketballs, and slide under inflatables to keep the penguin running for as long as possible without being caught by the crew.
Easy to play with simple touch and swipe controls, users can also invite and compete with their friends to see who can collect the most coins, cupcakes, special powers and gain extra lives. How far can you run? Are you the best?
Here is a promotional trailer for the game.
This App is from Royal Caribbean International, in partnership with Hi Mum! Said Dad a mobile marketing agency based in London.