Yesterday was the inauguration of The Shard, a new spectacular building in London.
Measuring 330 metres, the Shard was designed in 2000 by Renzo Piano to resemble, you guessed it, a shard of glass.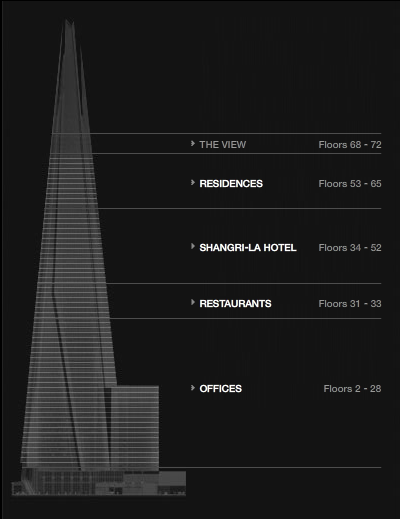 Facts
The idea began as an iceberg-like building emerging from the River Thames.
Southwark Towers, a 1975 tower block, was demolished to make way for the Shard in 2009.
The Shard features 11,000 panes of glass, which are angled to reflect and change according to weather conditions.
It will contain offices, residences, a five-star hotel, restaurants and a public viewing gallery.
Entry to the public viewing gallery, situated at around 245 metres high, will cost £25 per person. Not a bad price considering it's the tallest building in Europe, but I'm not convinced I would ever want to pay that much to see London from a bit higher up, especially as it's likely going to be covered in rain.
Yesterday, marking the inauguration, a little light show was put on at the Shard. And when I say little, I mean it. Watch the video below if you're interested, but once you've seen the first 5 seconds, it doesn't get any better.
Tickets to see the view from the shard go on sale today, and the building itself opens to the public early next year. If you want to catch an early glimpse to see what the view looks like, visit here to get a full 360 degree view.