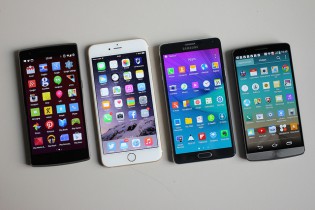 Tablets and laptops might still be the personal computers of choice but in recent years they are being outpaced by smartphones. A quarter of the world's population are smartphone users and that figure is set to increase to two billion by 2016, and in today's always-connected society, having access to the internet on-the-go is a major attraction.
Online capabilities
Getting online to browse the net, sending emails and using social networking means that smartphones have changed the way we now communicate and access online services. We use our phone's online capabilities to catch up on the news, shop online, check our bank accounts, video chat to friends and of course send emails. Telephoning is no longer the primary use for our mobile phones and at least 55% of smartphone users only ever use their phones for emailing and social networking.
App popularity
Traditional phone services such as calling and texting are still important to users but why call and text when you can instant message for free? Communication apps such as WhatsApp and WeChat have over 450 million active users between them and that's not to mention Facebook and their messaging service, which has 1.35 billion monthly users. In the UK alone, 28% of the time spent on phones was devoted to social networking apps. In the United States, 18% of phone time went on using games apps with 29% spent on social media; it's telling that the mobile phone app market is forecasted to hit $143 billion by 2016, almost trebling since 2012.
More contract choice
The huge surge in smartphone popularity does mean that consumers are able to obtain some remarkably inexpensive deals if they're prepared to shop around. Network providers are offering a wealth of low cost contracts designed to suit a variety of budgets. With monthly contracts available, consumers no longer need to be tied down to a two year contract, and can seek out the best sim-only deals, which is good news given the amount of low cost deals that pop up on the market every month.
Whether for work or leisure, the smartphone has definitely made a difference to the way we communicate, access entertainment and conduct business. This revolutionary device looks set to be one of the most popular communication tools of this century and perhaps the next.
Image by Maurizio Pesce used under the Creative Commons license.