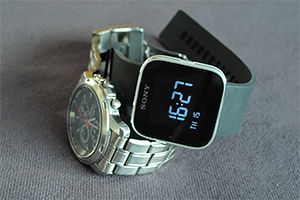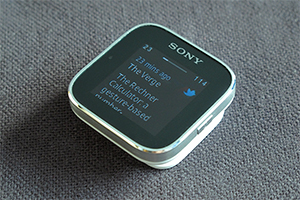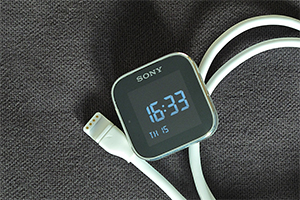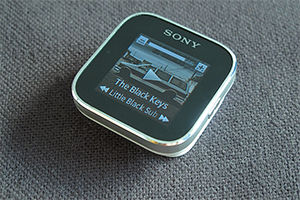 The Sony SmartWatch is a wrist-ready Android device with a 1.3in OLED screen. So the SmartWatch really is like having a tiny smartphone strapped to your arm. We can't help but notice how similar it looks to the iPod nano, launched two years earlier. The screen resolution is rather low at only 128 x 128 pixels, about half that of the iPod nano's 240 x 240 pixel display.
Whether it's an intentional copy or not, the SmartWatch looks undeniably cool with its rounded corners, silver metal edge and glossy black fascia.
However, the SmartWatch is quite bulky at 12.8mm thick, making it tricky to fit underneath some clothing. It's lightweight at just 40g with the wristband.
You don't have to wear the SmartWatch on your wrist, though. It's got a clip on the rear so you can attach it to whatever you want. It simply clips to the supplied wristband which comes in different colours but its rubber material means it can get quite clammy. Sony does supply an adapter which means you can instead use your own strap.
The Sony SmartWatch is a cool and attractive gadget, one that you want just for the sake of it. However, it's more than just a shiny touchscreen watch offering plenty of apps and functionality. The downsides are a slightly bulky design and the need to charge it up regularly.